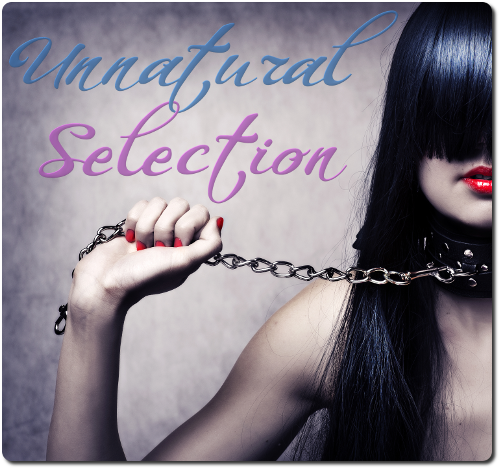 "Unnatural Selection" is a text-dominant HTML (Twine) game that supplements the Crown of Roses novels by presenting a different story-line that focuses specifically on one of the supporting- / side-characters from the novel[s]. Story continuity is maintained between all the Crown of Roses works. You are welcome to enjoy this game as a stand-alone experience, but if you are someone receptive to reading, or especially if you are actively seeking a fantasy-fiction world that does not shy away from mature/sexual/fetishistic elements and descriptions, then I strongly encourage you to read the current novel, Crown of Roses: Lost & Found, prior to playing the game. You are welcome to follow both products as they are developed, and I assure you that the Crown of Roses world will be complex, intriguing, and entertaining; it will continually grow in depth and scope to accommodate everyone's invested imaginations.
"Unnatural Selection" revolves around Michael (Michelle) Warren. The game is in the very beginning stages of development, so you should not expect much "playability" at this point. Right now, the game's cosmetics (appearance and style) are low priority in development, so players should also not expect refined visual appeal. Plus, it currently contains very little images. As the game progresses in development, more artwork (and other media) will be added (including adult imagery), and the cosmetics will be improved. Until then, feel free to experience what is available.
- - - - - - - - - - - - - - - - - - - - - - - - - - - - - - - - - - -
Playstyle: The game's introduction is text-heavy and will "play" primarily like mature (adult) fiction, consisting mostly of reading (descriptive and elaborate, more in accordance with novel-style creative writing). However, every action in the introduction section will affect the character's pathing (minor changes between predetermined critical life-events), starting attributes, and later play.
Eventually, each chapter will contain both a reading section (a choose-your-own-adventure style of interactive fiction) and a gaming section (with goal-oriented character-building, objectives, obstacles, and challenges). Player actions and decisions will seamlessly affect both the reading and gaming sections of the game; the only real distinctions will be the purpose of those parts and, most significantly, the writing style. The gaming sections will be less verbose and more streamlined than the reading sections, so for those who are not fans of novel-style reading, you should not worry that every part of "Unnatural Selection" will be as text-heavy as the introduction. Nevertheless, if you have a strong aversion to reading, you will likely not enjoy the current version[s] and may not appreciate the final product; after all, this is a text-based game (just being honest – don't want to mislead anyone into spending their time on something that's clearly not their style). My hope is everyone who invests their time into the Crown of Roses world, whether game or novel, is happily rewarded.
Format: Adult Interactive Fiction / Game (HTML Text-based, eventually with some supplemental visual/audio media, built using Twine 2.x and Sugarcube 2.x)
Content Warnings: Graphic (and brutal) violence and sexual encounters (and violent sexual encounters) ; Unorthodox sexual encounters (may include but not limited to: homosexuality, trans-sexuality, non-consexuality, inhuman/alien intercourse, unwanted physical transformations).
A note regarding the "TF" aspects of this game: The story will inevitably exhibit Michael's transformation into Michelle. However, I must ask the strong TF-fetish fans to please be patient, for the TF-features of the game will be subtle and slow-manifesting until the catastrophic event that finally forces an abrupt change (which will occur in chapter two of this game but is also briefly described in the Lost & Found novel).
Accessing the material: You can always access the latest public versions of my novel (Lost & Found) and game[s] (currently only "Unnatural Selection) for free through my patreon page (link on the left). I also offer two different versions of earlier access with additional material for my patrons, for those of you who wish to support the arts or those who do not want to wait for public access, the details of which can also be found on my patreon page (link on the left). Mirrored links to mega.nz and google-drive are also provided (on the left side) for the public version (other direct-download options will be added shortly, please be patient).

Michael Warren is a high-school athlete at a private, elite high school in Augusta, Georgia, USA. He is a pro-active, popular person who knows what he wants and pursues it. For the most part, he wants prestige, power, and pussy, and, although he espouses high ethics, he has begun using more and more unscrupulous methods to achieve those goals. He is also active politically and religiously, which complicates (and sometimes contradicts) his desires, which, like many Americans, forces him to adopt different personas for different environments. The young man tries to tediously balance his public activities, private life, and secret desires to achieve the highest status and most power possible. Unfortunately, unbeknownst to him, fate has already set him on a collision course with an unnatural environmental hazard that will humble and forever change the rising star of the Augusta Academy of Excellence.
v 0.0.230
NEW
-Expanded and finished Adam scenes' starting dialogue options (in Intro)
- Finished the incomplete dialogue branches in Laura's scenes (in Intro)

EDITS
-Fixed Adam scenes' start to accommodate a random hiding spot (in Intro)
-Edited sexual profile to correct its abilities (in Profiles)
-Minor edits to Intro5 (Michael gives thanks) to correct continuity errors (in Intro)
-Made several minor code and definitions alterations to prep for next code update (Transparent)

INTRO-SCENES STATUS
-Bus (30% Complete)
-Adam (15% Complete)
-Laura (90%, awaiting game foundational coding to finish)
-Gloria (90%, awaiting game foundational coding to finish)


NOTES
-I know a lot of the dialogue options/scenes do not currently affect your character's stats. They will when the foundational coding is implemented.
-v0.0.300 is now live for patrons and introduces a few 2d graphics and brief animated images/webm videos. More will come as content updates.
v 0.0.220
NEW
-Finished dialogue options for Tim chance encounter (in Intro - bus scenes)
-Finished designing Adam's scenes (transparent, in Intro)
-Continued to design mechanics/code foundation (mostly transparent, most to be implemented later)


EDITS
-Detailed the physical descriptions of some NPCs (in NPC profiles)
-Created temporary links to some NPC profiles (in Michael's Social Profile, will be replaced later with scripts)
-Reworked lead-in to Adam's scenes, in prep for scene development (in Intro)


INTRO-SCENES STATUS
-Bus (30% Complete)
-Adam (5% Complete)
-Laura (70% Complete)
-Gloria (90%, awaiting game foundational coding to finish)


NOTES
-Not much playable material in this update. Try to be patient. A lot of transparent work was being done to prepare for future development. The next several updates should offfer more playable material. Plus, a code/script and another cosmetic update is scheduled to happen within the next few releases.
v 0.0.211
NEW
- Developed some additonal return-questions for Laura's section (in Intro)
-Finished the incomplete dialogue branches in Gloria scenes (in Intro)
-Started to design and implement foundational gaming mechanics and code (important for future efficiency and effectiveness, but offers no present playable material - please be patient)

EDITS
-Condensed Gloria scene passages to one less page jump (in Intro)
-Increased Laura's response frequency (in Intro)

INTRO-SCENES STATUS
-Bus (25% Complete)
-Adam (1% Complete)
-Laura (70% Complete)
-Gloria (90%, awaiting game foundational coding to finish)
- - - - - - - - -
v 0.0.200
NEW
- Designed general layout of Michael's remaining character profiles
- Designed general layout of NPC character profiles
-Developed more options for school-bus fraternizing in Intro section
-Developed some return-questions for Laura's section in Intro
- Added introductory tutorial link and landing page to game's story menu (empty)
-Set default link colors to improve asethetics
-Set default font for game to improve aesthetics

EDITS
-Tweaked color scheme of pages to increase aesthetics
-Cleaned up UI Bar

INTRO-SCENES STATUS
Bus (25% Complete) ; Adam (1% Complete) ; Laura (65% Complete) ; Gloria (85% Complete)
NOTES
-First Cosmetics Update, albeit a minor one!